South Shore Golf Featured Products
No product matches your request.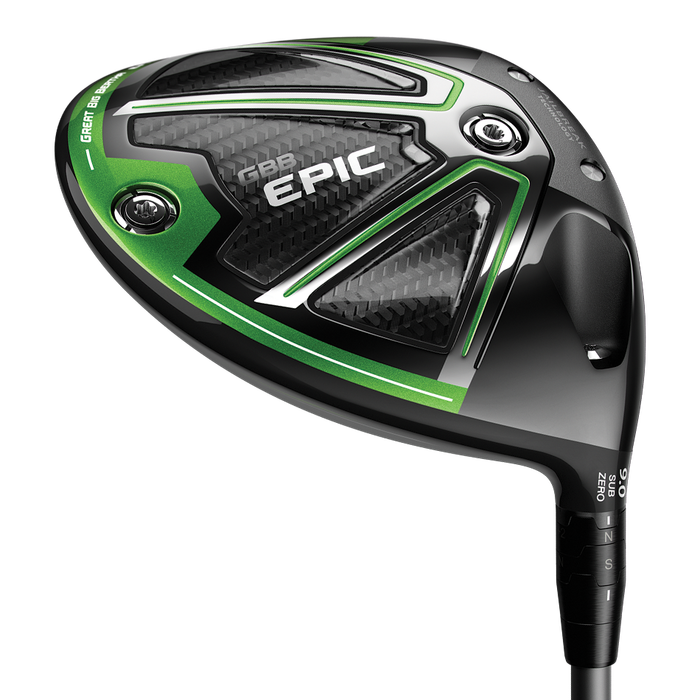 Callaway GBB Epic Sub Zero Driver
Mizuno MP-18 MB 3-PW RH
Mizuno MP-18 MMC FLI HI 3-6, RH
Mizuno MP-18 MMC 3-PW RH
Mizuno MP-18 SC 3-PW RH/LH
Callaway GBB Epic Fairway Woods
Callaway GBB Epic Driver
Titleist 718 AP3 Irons
Titleist 718 AP2 Irons
Titleist 718 AP1 Irons
Cleveland CBX Wedges
Cleveland Launcher CBX Irons
Cleveland Launcher HB Driver
US Kids UL Golf Set
TaylorMade M CGB Irons
TaylorMade P790 Irons
Ping Sigma G Putter
Ping G400 Irons
Ping G400 Hybrids
Ping G400 Fairway Woods
Ping G400 Driver
Callaway Golf Epic / Epic Pro Irons
Callaway GBB Epic Sub Zero Driver

Epic Distance and Forgiveness in Our Lowest Spinning Driver. The GBB Epic Sub Zero Driver is a true paradigm shift: a powerful, low-spinning Tour-level driver that's also incredibly forgiving -- an unheard of combination. Its high speed / low-spin characteristics make it particularly appealing to Tour pros, yet it's so exceptionally forgiving and easy to launch that a wide range of players will want to play Epic Sub Zero. Innovative head construction unites our titanium Exo-cage with an ultra-light triaxial carbon crown and sole, allowing improved perimeter weighting for more forgiveness and makes it possible to position the CG in line with the neutral axis, which lowers spin. Two interchangeable weights in the head (2g and 12g) to adjust spin-rate and launch angle. Put the 12g up front to lower spin; in back for higher launch and higher MOI. HZRDUS, Fujikura, and Rogue in three weight classes: 50g, 60g, 70g. Each premium, Tour-proven shaft is engineered to promote speed, power, stability, feel and control: 50g Class: Project X HZRDUS T800 60g Class: Fujikura Pro Green, Aldila Rogue M•AX 70g Class: Aldila Rogue M•AX

Mizuno MP-18 MB 3-PW RH

The MP-18 was designed as a throwback to the muscle-backs of Mizuno's past. A shorter blade length, cambered top line and steep progression into sharp, compact wedges are the marks of our master club makers – who honed their skills on the irons of major winners. Introducing Grain Flow Forged for the most intensive feedback imaginable.

Mizuno MP-18 MMC FLI HI 3-6, RH

The finishing touch to an MP-18 set. The hollow body, long iron replacement provides an added element of speed, power and launch. The sleek new profile now envelopes a Maraging Steel Face, Tungsten Toe Weight and internal pocket for enhanced ball speed and ease of use without the added bulk or offset of typical game improvement long irons.

Mizuno MP-18 MMC 3-PW RH

The Multi Material Construction stems from a three-year project between our R&D team and our legendary forging house to address the demands of the modern player. The highly stable, forgiving multi-metal construction satisfies the needs of a large range of players. Through the strategic use of lightweight titanium and heavier tungsten parts sealed within its 1025E mild carbon steel head MP-18 MMC provides workability, control, piercing ball flight, and forgiveness while maintaining a similar 'tour-ready' profile and size to the MP-18 SC.

Mizuno MP-18 SC 3-PW RH/LH

Designed in partnership with our Tour staff the MP-18 Split Cavity are exactly what better players ask for out of a modern - compact cavity set. A slightly wider, cambered sole makes this more playable than the muscle-back however size and shape are only a fraction larger, making it easy to blend into a combo set. The thin, tapered top line, short head length and smaller wedges mean this is very much a 'tour-ready' iron. Gran Flow Forged for complete feedback through impact.

Callaway GBB Epic Fairway Woods

Epic Distance for Every Player. GBB Epic fairway woods incorporate our revolutionary and proprietary triaxial carbon composite material to enhance forgiveness, power and accuracy in a huge way. The triaxial carbon crown weighs just 5.8g, making it an incredible 78% lighter than a steel crown.* The saved weight is redistributed into strategic locations within the head to maximize MOI and lower the CG, making Epic fairway woods extraordinarily easy to launch. The latest generation of our Hyper Speed Face Cup is more efficient at delivering fast ball speed across the face, especially on mis-hits, for increased average distance. Six models -- 3+, 3, 5, 7, Divine Nine, Heavenwood -- gives golfers multiple opportunities to put Epic performance in their bag.

Callaway GBB Epic Driver

Epic Distance for Every Player. The GBB Epic Driver represents an epic shift in how the head and face behave to enhance power, spearheaded by our innovative Jailbreak Technology and Exo-Cage/triaxial carbon construction. Any golfer, from scratch players to high handicappers, should find more speed, distance and control with GBB Epic. Innovative new technology changes how the head and face behave at impact to promote more speed across a larger area of the face for increased average distance. Innovative combination of titanium Exo-Cage and triaxial carbon crown (lightest ever in a Callaway driver) and sole create unprecedented forgiveness in a high-launch, low-spin design. Streamlined head incorporates our proprietary Speed Step, created with direct input from aerospace experts, to improve airflow for more swing speed and distance. HZRDUS, Diamana, Fujikura, and Rogue in four weight classes: 40g, 50g, 60g, 70g. Each premium, Tour-proven shaft is engineered to promote speed, power, stability, feel and control: 8 way adjustability for loft and lie angle. Lie angle options: Draw or Neutral Loft options: Adjust up to +2* or down -1* from the stated loft

Titleist 718 AP3 Irons

The all-new 718 AP3 irons truly represent the best of both worlds. Everything we've learned from creating and advancing our AP1 and AP2 irons merged to create our longest, fastest player's iron ever. It's the player's distance iron. A hollow-blade construction combined with L-Face inserts launches long and high with shot-stopping spin – even on longer shots. With AP3 you get the off-center performance of a game improvement iron packed into a club that delivers the feel of a player's iron. Precise when you pure it, and forgiving when you don't. Look down and you'll see a player-preferred shape that inspires confidence. Feel even better knowing this beauty of an iron possesses all the distance and forgiveness you demand to play your best.

Titleist 718 AP2 Irons

718 AP2 irons raise the bar on the gold standard for tour iron excellence. If you demand ultimate playability with consistent distance and forgiveness, these are the irons for you. AP2 irons feature Tour-proven performance, validated by the best players in the world. Both speed and MOI have been maximized to provide total control and distance anyone can appreciate. Greater forgiveness and stability are achieved through precise perimeter tungsten weighting and a unique co-forged construction. Attack even the most challenging pin placements with more confidence than ever. The Tour player-preferred look, sound and pure forged feel wrapped up in one unmistakable package. Now with a refined leading edge for more efficient turf interaction and pure feel through impact.

Titleist 718 AP1 Irons

With explosive ball speed and an even more-forgiving face, 718 AP1 irons reward you in every way you can imagine. All while maintaining our classically coveted look and feel. Launch it high and land it soft with a lower CG and refined tungsten weighting for each individual iron. Hit longer shots that hold the green more often, putting you in better scoring positions. AP1 irons not only deliver more distance, but also produce more consistent gapping throughout the set. Hollow body long irons and undercut cavity mid and short irons mean you'll be able to maximize carry distance for every shot. A higher MOI gives you more room on the face to hit it pure. An improved leading edge creates better turf interaction, for more consistent contact. Together they let you hit every shot closer to your target.

Cleveland CBX Wedges

The Cleveland CBX Wedge is a more advanced, more forgiving wedge for golfers who play cavity back irons. It gives you tour-level spin and control while blending seamlessly with your cavity back irons. Introducing a whole new way to look at the short game. The Cleveland CBX wedges deliver remarkable spin and control around the greens while transitioning seamlessly with cavity back irons to give you consistent feel throughout your set.

Cleveland Launcher CBX Irons

The new Launcher CBX Irons from Cleveland Golf feature a cup face design, V-shaped Sole, and Tour Zip Grooves to deliver maximum distance with wedge-like accuracy. Large, easy-to-hit long irons transition to compact, easy-to-control short irons, helping you get closer to the hole from anywhere on the course.

Price :

$699.99 - $914.24

Cleveland Launcher HB Driver

To help you LAUNCH IT longer, we engineered an ultra-lightweight hosel that optimizes weighting for high, long, and straight drives. To boost ball speeds, we added Flex-Fin Technology, a Launcher Cup Face, and the all-new HiBore Crown so you can bomb it with explosive distance.

US Kids UL Golf Set

The Ultralight set is designed for the beginner to intermediate player. The flexible shafts with the right club head weight and design help the developing player get the ball up in the air with ease. Add more clubs to the set as the player progresses. Features: Optimal Height Range 42 in. to 45 in. WT-25u model (25% lighter club heads) Clubs in this set: DV2 Driver (headcover included) Hybrid (headcover included) 7-Iron Pitching Wedge Putter

TaylorMade M CGB Irons

M CGB pushes the limit of irons engineering for maximum distance throughout the entire set. Starting with a <2mm face thickness, every iron achieves consistently high COR, making it our fastest set from 4-PW ever. Combine this with ultra-low CG placement, and golfers will achieve high trajectory and optimized spin rates. Beyond distance, M CGB delivers full-face forgiveness throughout the bag. With a multi-material head construction, Speed Pocket technology, and Face Slots, M CGB creates high MOI with increased ball speed across the entire clubface for amazing consistency, even on mis-hits. Further enhanced with Geocoustic engineering, golfers will experience finely tuned sound and feel. The precision-shaped head, featuring an advanced Hybrar damper and 3D sound-managing badge, works to dampen vibrations and soften feel for exceptional shot-making ability.

TaylorMade P790 Irons

P790 irons pack powerful performance into a clean, classic design to deliver unprecedented distance in a players iron. Through a combination of forged construction and our revolutionary new SpeedFoam Technology, golfers will experience feel, forgiveness, and workability unlike any iron of this caliber. With P790, TaylorMade's engineers have answered the challenge of creating a forged iron that delivers remarkable distance as well as enhanced playability and feel—all in a refined shape preferred by discerning players. The P790's hollow cavity uses SpeedFoam Technology, a new proprietary construction, which serves a dual purpose of generating ball speed as well as optimizing sound and feel. Injected into the clubhead, SpeedFoam provides the face support and sound-damping properties that make the performance of the P790 unlike any other iron in the TaylorMade family. The incorporation of the new wrapped face construction creates a cut-thru Speed Pocket on the sole with extreme flexibility in the lower part of the clubface; it's this flexibility that creates greater forgiveness and consistency than is typically seen in a distance iron design. The P790 also features an ultra-thin 1.75mm face thickness with re-engineered Inverted Cone Technology optimized for the slightly smaller face area. The new, smaller Inverted Cone allows for reduced face thickness at the edges of the face, thus increasing flexibility from heel to toe and low on the clubface, resulting in more ball speed across the entire face. For forgiveness and playability, P790 irons feature strategically placed internal metal-injection-molded (MIM) tungsten weighting for precise CG placement and higher moment of inertia (MOI).

Ping Sigma G Putter

The Sigma G putter family sets new performance standards in feel, stability and touch. Covering the entire hitting surface is an innovative insert combining highly responsive Pebax® elastomer and a milled aluminum face to provide full-face forgiveness. A softer feel and consistent ball speeds will help you hole more putts than ever.

Ping G400 Irons

Innovative face-flexing technology launches the ball faster and higher to give you tour-level distance with stopping power and forgiveness. The multi-material G400 iron flexes like a catapult as COR-Eye Technology and a top rail undercut launch the ball higher and farther. One PING pro said during testing: "This G400 7-iron has turned into my 6-iron but in an 8-iron window." Golfers can expect one less club to the green with the height of two less clubs. That's a powerful combination.

Ping G400 Hybrids

An ideal option when gapping your set for mid-to-long distance shots, the G400 hybrids combine maraging steel faces with CG optimization to deliver more distance and forgiveness. Hotter ball speeds launch shots higher and farther, allowing you to stop the ball quickly on the green.

Ping G400 Fairway Woods

The G400 fairway woods' ball speed and stopping power come from an innovative maraging steel face that flexes 30% more, making them our hottest, highest-launching fairway woods ever. One of the strongest alloys in the world, maraging steel is commonly used in the aerospace industry, where strength and flexibility are necessities. Extremely thin and more flexible, the innovative maraging steel face generates faster ball speeds to launch shots farther, higher, and straighter.

Ping G400 Driver

The new G400 drivers' streamlined shape advances aerodynamics and stability to our highest levels ever. The multi-material design combines reduced drag, a forged face to increase speed and distance, and a tungsten back weight for producing our fastest, most forgiving driver ever. The unique forging process and patented heat-treatment process of the T9S+ face powers a thinner, hotter impact area that is precision machined to elevate ball speed across the entire face for 16% more flexing and when paired with the aerodynamic gains, results in ball speeds nearly 2 mph faster. By making the face 6% thinner and 9% lighter than its predecessor, extra weight was placed strategically to tighten dispersion even further. The forged face was also instrumental in producing the powerful feel of the driver. With a combined MOI over 9,000 and the deepest CG location in golf, there's no more forgiving driver available. A higher-density back weight helps with forgiveness and allows you to customize your swing weight. You can fine-tune your launch conditions prior to a round by adjusting loft up to +-1º. The streamlined shaping harmonizes with new, bolder turbulators and Vortec Technology to reduce drag by 40% mid-downswing and 15% overall to increase clubhead speed. Dragonfly Technology creates an ultra-thin crown and skirt for weight savings to optimize the CG location and increase MOI for maximum forgiveness and accuracy. PING's proprietary counter-balance design allows for more mass in the head to increase energy transfer. Color-Shift Paint Technology means the vibrant copper shaft paint transitions to nearly black as you address the ball to eliminate distraction.

Callaway Golf Epic / Epic Pro Irons

Innovation Without Boundaries Epic Irons use our most ultra-premium materials and advance our revolutionary technologies to create the highest level of ball speed, forgiveness and performance we've ever had in a iron. Advancing the industry-leading face technology that made Callaway the #1 Iron in golf, the rim of the Face Cup is 1 mm at its thinnest point to add even more ball speed on center hits and further minimizing distance loss on off-center hits. Exo-Cage head construction stiffens the body to allow the face to take on more of the load of impact. This is known as "Energy Lensing" - it promotes faster ball speed for longer distance, and it helped raise the COR in Epic Irons right up to the limit in each iron. We've never reached that level of speed in a full set. Multi-material construction demands strict tolerances, seamless fit and secure bonding. Epic Irons are precision-milled and robotically welded, and every iron in this set is uniquely constructed for maximum integrity and optimum performance. Incorporating tungsten in the Internal Standing Wave allowed Callaway engineers to precisely position the CG in each individual iron. This includes a lower CG for easier launch and long carry in the long irons, higher CG in the short irons for a lower, more controllable flight, and left-to-right CG control in tandem with the hollow hosel. UST Mamiya Recoil ES 760/780 graphite and Project X LZ 95 steel stock offerings with a wide selection of premium steel shaft options at no upcharge.